To celebrate British Science Week, we sat down with members of the UKStratCom Climate Change and Sustainability Team (CC&S) to learn a little more about their career, their motivations for working in CC&S, and the importance of understanding our connection to the environment. We also asked them for some of their top tips on how we can be more sustainable in our day-to-day lives.
Meet Sarah Wallace – UKStratCom HQ Climate Change and Sustainability Assistant Head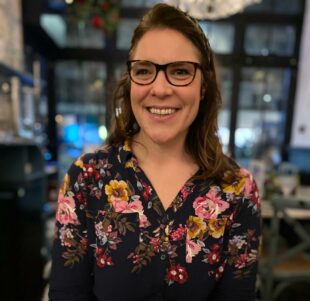 Sarah, thank you for taking the time to speak to us and for helping celebrate British Science Week 2023. To begin with would you mind sharing some information on your background? In particular, what have you done in the past and what does your scientific background look like?
My journey has been fun, it began in university where I studied Economics and specialised in Environmental and Developmental Economics. I was fortunate enough to start my career as an econometrician with Gain Theory, a WPP firm that put a huge amount of effort into training and nurturing its analysts. These skills, such as investigating Return on Investment (ROI) drivers, lend themselves to all things, especially climate science where the financial complexity posed by carbon and biodiversity are evolving.

My passion for environment and sustainability then took me to Tanzania where I worked at the George Adamson Wildlife Preservation Trust (GAWPT) in Mkomazi for Tony Fitzjohn OBE. Tony, who very sadly passed away last year, was a pioneer in conservation who turned a derelict game reserve into a thriving National Park. He gave me a deeper understanding of the natural world, its value and vulnerability. Something I'll aways remember is watching previously confined animals nervously being released into the wild successfully and the challenge of breeding Black Rhino.

I spent the next 8-years working for Medical Aid Films designing programmes and partnerships with NGO's and Academia to improve the health outcomes of women and children across East and Southern Africa. The health workers I met during this time humbled me. Their work ethic, often on no pay, and thirst for knowledge as they sought to improve the outcomes for their patients and communities was life affirming.

Like so many, having children ultimately meant planting roots and I saw a role in Defence as a hugely exciting one that fit with my desire for supporting vulnerable populations through security and defence. Combining my passion for environment and sustainability in the Defence context is incredibly fulfilling.
It is clear that previous experiences, in particular the time you spent in Africa, have shaped the way you view not only the environment but the natural world as a whole. What made you decide to pursue a career in CC&S?
It's a part of who I am. Inequality and the impact of a few on so many is something I feel impassioned to change. I know the science can be confusing, but we mustn't let that dishearten us. I hope that through working in this field, I can help break down the problem and show that each individual contribution, no matter how small, does matter.

As consumers, both individually and corporately, we can make choices that really shift the tide. My time in Africa, whether working with Tony Fitzjohn and his team in Tanzania, or alongside the women and healthcare workers across East and Southern Africa have shown me the power one person can have. Closer to home and there are pioneers in our own HLBs who showcase these same characteristics. With the right desire, passion, tools and support we can all have a hugely positive impact.
What was it that made you want to pursue CC&S in Strategic Command? You've touched on the pioneers within our own HLBs – was there anything in particular that attracted you to a career in the Command?
Firstly, it provided me with opportunity to work alongside the wealth of skilled, smart, and hugely energetic people that Defence has to offer. It also offered me the chance to work alongside colleagues, not just in UKStratCom but across Defence, in supporting a critical line of effort.

Most people are on board with becoming more aware of the need to change which is great. It's now all about how we change that awareness into action. That task is by no means simple. To improve our environmental impact whilst maintaining, or indeed improving, our operational output is a huge challenge but one that is so important.
Let's turn our attention to the present day. Could you explain how your background and experiences influence how you approach your current work in CC&S?
More than anything else, I think my experience in economics, as well as in the field, has shown me that we need to be realistic, informed, and agile if we're to build the right foundations and embed climate and sustainability values in Defence.

We need to understand the breadth of the problem to truly know what the barriers to change are and identify the parts in our organisation that will deliver the greatest impact in a culturally sensitive and practical way. We cannot expect, for example, personnel on deployed operations to change if the infrastructure and means are not in place to support those changes. It's not about changing one thing; it's about a full shift in approach. Our CC&S sub-Strategy supports this endeavour acknowledging our constraints and wide-ranging priorities.
The theme for British Science Week 2023 is 'Connections.' I think, we're all increasingly aware of how we contribute to climate change. Can you tell us why it is so important that we understand how our actions affect the climate & environment around us?
Shifting cultural acceptance is so important. Most of us behave as a crowd. The more we start to break current 'norms' and create a new normal will be a powerful step in helping our climate and environment.

Small steps are one thing but, as waste and emissions continue to grow, it is time to start taking big leaps and fundamentally change our behaviours so that supply chains can catch up. If we better understand the connection between our personal health and wellbeing and the irreversible damage being inflicted on our environment and biodiversity, then we might be more inclined to shift the tide and lobby through consumer choice. The more voices there are, the louder and harder the impact will be.
You've mentioned the need to break the 'norm' and change our behaviours. How can we begin to be more sustainable in our day-to-day lives? Do you have any top tips you can share with us?
I should start by saying I am in the "I could do more" camp, but here are some things that we do at home
Household cleaning: I've recently switched to Smol, which are planet-friendly laundry, dishwasher & home cleaning products. Over 95% of cleaning products are water and ironically, we receive the majority of our water filled single use plastic packets via ships. The weight alone is crazy when you consider the fuel required to ship water.

Shampoo bars: These are our go to now. They take getting used to and transporting them requires a different vessel, but a Tupperware pot does the job perfectly.

Local refill shops: These are popping up everywhere. Near Army HQ, there is one at the Weyhill Fairground that is fabulous – I fully recommend.

Buy Pre-Loved not new: This is a must as our fashion industry is the second most polluting industry after oil. We all tire of what we have eventually so finding a thrift shop, swap or toy exchange is great. I love swapping my kids' stuff for someone else's pre-loved.

Joining a local Allotment: This is brand new for us, and I've struggled in the past to keep a cactus alive, but we have embarked on this journey having been inspired by our own Establishments at Chicksands and Wyton. Any advice is very welcome…