In a display of unwavering determination and commitment, several members of the Royal Gibraltar Regiment have returned from the gruelling challenges of the Infantry Battle School with impressive achievements under their belts. The past week marked a significant milestone as the Royal Gibraltar Regiment celebrated the successful completion of the Platoon Sergeants' Battle Course by Corporal Davies-Prevost and the triumphant passage of the Section Commanders' Battle Course by Lance Corporals Bannatyne, Cooper and Webster.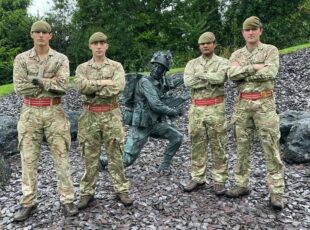 The renowned Infantry Battle School, nestled in the heart of Brecon, Wales, is synonymous with rigorous mental and physical trials that only the finest from the Infantry can conquer. This recent wave of successes follows triumphs earlier this year, serving as a testament to the growing prowess, experience, and professional knowledge within the RG ranks. 
The accomplishments of LCpls Bannatyne, Cooper, and Webster reflect their tenacity and dedication to honing their leadership skills. LCpl Bannatyne stands out for his exceptional performance, earning him the prestigious Instructors' Commendation. This remarkable accolade underscores his status as one of the top-performing students in a cohort that is already an embodiment of determination and skill. 
Corporal Davies-Prevost's successful navigation through the Platoon Sergeants' Battle Course stands as a testament to not only his individual fortitude but also serves as an inspiration to all aspiring soldiers. This accomplishment is particularly commendable, as the course is known for its intense challenges that select the most resilient and capable candidates. 
As the RG continues to forge ahead, the successes of those who have conquered the Infantry Battle School set a remarkable precedent. Not only do they reinforce the Regiment's reputation for producing exceptional soldiers, but they also stand as beacons of inspiration for those who are preparing to embark on this arduous journey. This collective triumph reinforces the RG's commitment to upholding the highest standards of skill and professionalism within its ranks.