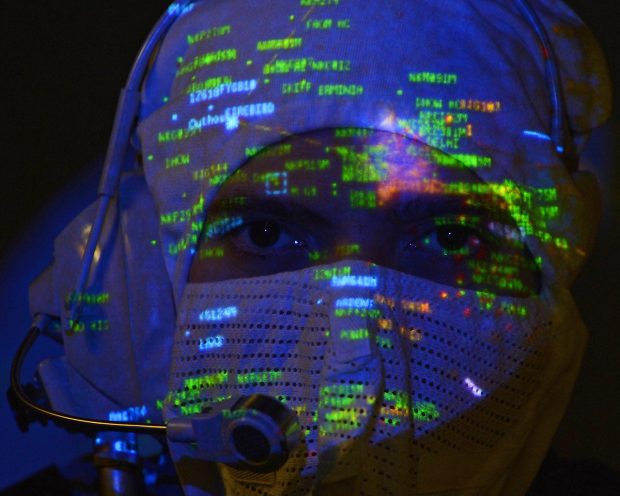 The announcement of the National Cyber Force has put Britain's cyber capabilities firmly in the spotlight. But Strategic Command has been leading defence on cyber much longer than that.
We asked people on the inside of the cyber world to share their stories in their own words. Due to the often secret nature of their work we cannot share their pictures or their full names.
 This time, we join Thomas, a member of the Royal Navy and now the National Cyber Force, to discuss his move "from Ships to Cyber".
I joined the Royal Navy in 2015, with the assumption that I would spend the majority of my time at sea, and never imagined I would be in the place I am today. Before starting down the route of the Cyber domain, I served on numerous ships, conducting multiple deployments, working against a vast array of targets. After a number of years, I was looking for a change, a new challenge, after considerable time in the 'core' role.
Like many others, I'd decided being a linguist was a solid choice - I was good at languages in school, and having self-studied a foreign language whilst on deployment to aid the team's output, doing it full time certainly seemed like the direction to go in.
When it came to deciding where to go next, a chat with my career manager was to change my future completely. I fully intended to go into the meeting, and walk away with a place on the language course. However, whilst we talked, she mentioned 'Cyber' and immediate grabbed my attention - There were new roles opening up, and she asked if I'd be interested. I said yes immediately.
After accepting the new role, I joined a team working in a predominantly civilian environment, working on intelligence operations across a range of themes and countries. This team was then incorporated into the NCF as it stood up in 2020.
As an organisation, the military members still wear uniform once a week, with the rest spent in civilian clothing, blending in. It helps foster a bit of brand identity, which I think is important, as its occasionally easy to lose sight of the service aspects of the job when you aren't in a traditional military scenario. I do feel very privileged to work in my current environment though, working with some of the brightest and most professional people in both the military and various civilian agencies. I have had opportunities that I never thought possible, and have been fortunate enough to be involved in tasks with genuine, strategic impact on more than one occasion.
However, 2020 was not without its challenges, and our work patterns changed dramatically in line with organisation regulations. A lot of time was spent on training and courses at home, (gaining industry-recognised qualifications) but fortunately, myself and a number of team members were able to still maintain good time in the office, so tasks were not left untouched, and we managed to sustain operations.
Looking forward into the remainder of 2021, I'm genuinely excited about the direction my role within the NCF will take. A secondment to a team I've conducted work for previously is in the pipeline, which will keep me actively involved in important tasks with tangible results.
 Having never thought I'd end up working for an organisation of this calibre, I would whole-heartedly encourage people to get involved. You may not be technically minded, and you don't need to be, but you might just surprise yourself!
There are both Regular and Reserve cyber roles in the Army, Royal Navy, Royal Air Force.
  For more information on Army roles, click here.
 If you are interested in joining the Navy, click here.
 To find your force as a part of the RAF, click here.
 
There are also civilian cyber roles within the Ministry of Defence Civil Service.
You can sign up for a job alert on CS Jobs here. Simply create an account, select the Job Alerts tab and follow the on-screen instructions.