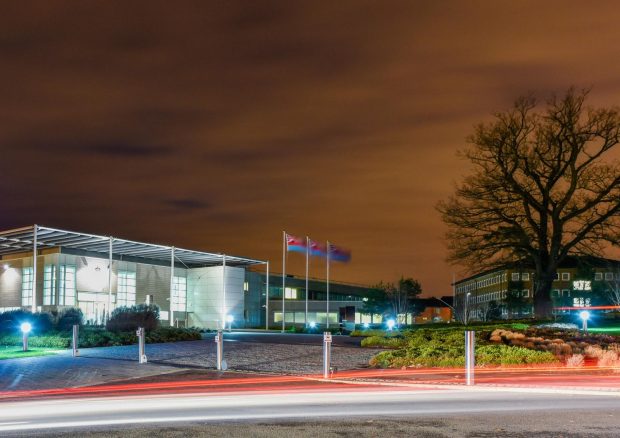 There's a good chance that you know a lot about the UK's Armed Forces: the British Army, the Royal Navy, and the Royal Air Force. The 3 Armed Services, combined with a large number of other organisations, make up the Ministry of Defence (MOD). But within the MOD there are some organisations it's likely you haven't heard of or, if you have, then you probably don't know a great deal about.
One of those organisations is UK Strategic Command. Sound important? That's because it is.
UKStratCom, as it's known in the MOD, is one of the most important parts of UK Defence and it deals with joint capabilities.
A joint capability is when all 3 services of the Armed Forces work together with Civil Servants and civilian contractors to achieve a desired goal.
In reality this means that Strategic Command covers an enormous range of responsibilities and ensures that the UK can operate on land, at sea, in the air, in space, and within the digital world.
So with that in mind, here are 10 things about UK's Strategic Command you probably don't know:
1. We take care of everything for tens of thousands of service personnel
Strategic Command's remit is vast. There are 11 top-level organisations that sit under the Strategic Command umbrella and many of those also have sub-organisations that sit under them. As such, UK Strat Com has an impact in every area of what's going on in wider Defence, even IT and medicine.
2. We direct the UK's elite Special Forces all around the globe.
As the home of the Directorate of Special Forces, some of the world's best, Strategic Command coordinates and facilitates short-notice and high-risk operations to defend the UK and her allies.
3. We transport essential supplies to personnel, ensuring they have everything they need to keep us safe.
An Army marches on its stomach. Ships, aircraft and vehicles need fuel. These are the basics, but there are thousands of components and individual pieces of kit that are required to ensure that we remain fighting fit. To achieve this, the UK Armed Forces relies on the logistic expertise which is coordinated by Strategic Command.
4. We help design state-of-the-art weapon systems
Some of the best scientific and engineering minds have worked with Strategic Command personnel in designing cutting-edge technology that ensures we remain at the forefront of development and innovation. From state-of-the-art weaponry on our new aircraft carriers to life-saving medical technology, Strategic Command helps to ensure the UK is prepared to meet any threats.
5. We take care of our Overseas Bases, everywhere from Cyprus to the Falklands, where military personnel are ready to defend the UK and our allies.
Each year both military and civilian personnel are deployed to our overseas bases. Strategic Command ensures those bases, and the people working hard within them, are looked after so that they can focus on their all-important job of keeping us all safe.
6. We support global relief efforts, helping to make the world a safer place
Personnel within Strategic Command remain on high readiness to deploy at a moment's notice anywhere in the world they are needed. When other nation's face a crisis, ranging from hurricane recovery in the Caribbean to supporting developing nations in their fight against terrorism, we respond quickly and effectively.
7. We employ some of the best cyber specialists in the country
The internet and computer technology have changed all our lives for the better. Unfortunately, there are people out there that would exploit this incredible technology to try and do us harm. Strategic Command cyber specialists work tirelessly to help protect us from this new and growing threat.
8. We helped in the fight against COVID-19
Strategic Command's medical specialists assisted the NHS in the fight against COVID-19; our logistics specialists helped to ensure that PPE got to those that needed it most; and our personnel helped with mobile testing centres across the UK.
9. We manage all overseas, UK-led joint military operations
Our headquarters are just outside of London, where we manage more than 23,000 people all around the world, who work 24 hours a day, 7 days a week, to defend the UK and our allies, wherever and whenever we are needed.
10. All of this means that we help make the UK a global military partner with world leading capabilities.