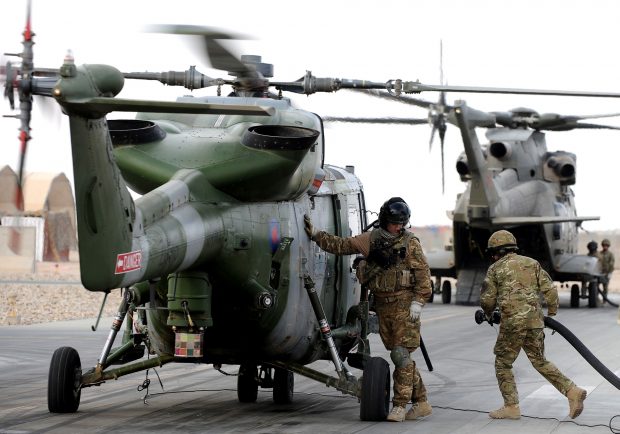 Since 2017, defence has been working to make changes to the specification standard for aviation fuel. Why? To allow our military aircraft to fly on greener fuel. Not a simple task, as for each aircraft we must ensure and agree that the new fuel does not compromise safety. Taking into account the wide range and ages of our aircraft, from a Puma helicopter, to F-35 Lightning, you can see why these things can take time.
Aviation fuel is a significant sustainability issue for defence, equating to approximately two thirds of fuel consumed across the entire Ministry of Defence (MOD). In between April 2019 and April 2020, we consumed 472,020,000 litres of aviation fuel, which resulted in 1,200,398,069 kg of CO2 emissions. With the government legislating to reach net zero carbon emissions by 2050 (known as Net Zero 50), defence needs to lead from the front in becoming greener. In response, we have released a newly revised "Defence Standard 91-091" – a set of rules which defines the standard for aviation fuel from producers and suppliers – giving the 'green light' (forgive the pun) to supply greener fuel.
Before the change, it was mandated that jet fuel had to be derived from crude oil. But after this three-year consultation with refiners, producers, airframe manufacturers, engine producers, and regulatory bodies, we have finally secured an agreement that all UK military aircraft can safely fly on a fuel mix that includes fuel from sustainable sources.
From November 2020, fuel suppliers can supply the MOD with up to 50% 'drop in' fuel (i.e. fuel from alternative sources) in any delivery. Examples of sources for these 'drop-ins' include vegetable oils, animal fats, wood waste, alcohols, sugars, industrial gases off-takes, municipal/household waste, biomass and algae. Using these fuels still produces CO2 emissions, but it is a positive reduction compared to using pure fossil-based fuel. The Business Coalition for Sustainable Fuels advises that if a jet on a 1,000-nautical-mile journey burns enough conventional fuel to produce 22,787 pounds of CO2, then mixing a 30% alternative fuel blend with 70% conventional fuels will produce a CO2 reduction of 18%.
In its 'Progress Report to Parliament 2020', the Committee on Climate Change recommended that UK Defence should assess the potential for use of alternative fuels in land vehicles, ships and aircraft. We have made the first big step towards that goal. However, supply and cost still play a significant part in making us truly net zero. While the UK market for alternative fuels is in its infancy, the costs of conventional fossil fuels are still lower than the sustainable alternatives. Between Defence and our suppliers, we will next need to explore ways of making the use of alternative fuel sources more financially viable.
Greener sources of fuel is a significant step on this important journey for defence. But thanks to this major milestone, we are firmly on the road to Net Zero 50.