by Flying Officer Chris Middleton

Who am I?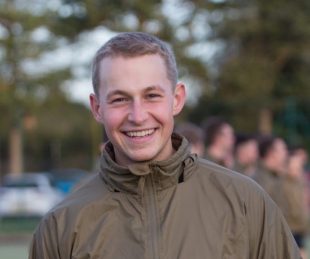 Flying Officer Chris Middleton. I am a trainee pilot having commissioned in the Royal Air Force in February 2019. Over the past 16 months as I wait to commence my next phase of flying training I have been given the opportunity to work at Strategic Command within the jHub.
Who are the jHub?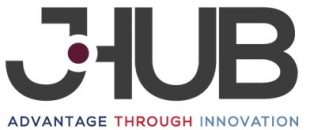 A quick google for 'jHub Defence Innovation' brings you to the jHub's website or clicking this link will bring you to our homepage, but to summarise; The jHub is the central innovation hub of Strategic Command where we look to enhance and improve the way in which UK Defence operates. We do this through accelerating the adoption of technologies that are novel to Defence and challenging existing programmes, policies and processes.
We are a small team made up of serving military personnel and civil servants, from varying backgrounds, specialisms and have a wide range of experiences. This breadth of individuals enhances the way we conduct our business by ensuring cognitive diversity is present within the team, meaning we can ensure sufficient divergent thinking takes place. This allows us to be as creative and imaginative with how we look to generate solutions to some of Defence largest problems.
The jHub empowers those within it to continuously thrive, develop and push their personal and professional boundaries. All while operating to its core principles of Purpose, Ambassadorship, Challenge, Audaciousness, Humility, Grit and Perspective. My time at the jHub has been a highlight reel of experiences that wouldn't normally be offered to those at this stage of their military career, and I am forever grateful to the jHub for giving me the opportunity.
Why we need to embrace change and innovation in Defence?
" We are fighting 21st century conflicts with

20th century equipment and

19th century concepts."
Col. Jason Lamb AKA "Col. Ned Stark"
If we look at the world we live in, technology and services that didn't exist just 10 years ago are now commonplace; things like iPads, Tesla self-driving cars, Amazon Echo and Alexa, AirBnB...the list goes on and we can only imagine the everyday products and services in 10 years' time. It is evident that the world is constantly evolving, and Defence needs to be harnessing these evolutions (and revolutions!) to ensure continued mission success on the frontline. As someone that may end up flying some of the worlds most advanced fighting machines, I am fully anticipating the incorporation of the latest technological developments into the cockpit of whichever platform I end up flying on the frontline. Unfortunately for my flying ambitions, complete removal of the human from our fighting machines is a revolution that we may not have fully grasped yet, but is most definitely in our future and one that we must be ready for.
For us to be able to effectively adopt these advancements in technology and be a more effective force we must be investing in, accepting and enabling effective change and transformation to happen within our organisation. At all levels. Not just mandated by senior leadership. A term the jHub calls "Innovation as an Approach", whereby everyone within the organisation is 'innovative by instinct' as state of constant willingness to adopt, empower and champion new ideas and ways of working and the facilitation of the removal of phrases such as "that's how we've always done it" from our day-to-day vocabulary.
If the acceleration of technology wasn't a sufficiently strong case to embrace and facilitate change and innovation, the changing geo-strategic landscape that the UK and our allies now exist within should be enough to get us moving. We have adversaries that seek to undermine our values and our way of life who are adopting the technological advancements at an arguably more effective pace than we are.
We must be ready for all eventualities and have the right processes in place for us to not just be reactive to advancements in situations and technologies, but proactive in identifying problems and swiftly implementing solutions.
The quote at the top of this section sums up our current position and came from Col. Jason Lamb of the US Air Force, at NATO's C2ISR conference, where I was fortunate to be both a fellow presenter and Q&A panellist just before lockdown in March. Col. Lamb was a senior officer in the US Air Force where he wrote provocative thought-provoking columns under a pseudonym "Col. Ned Stark" before unveiling his identify. If you have time, I would highly recommend you research his work.
How we embrace and facilitate change and innovation?
UK Strategic Command and the Ministry of Defence are not the first (and won't be the last) large organisation to embrace an internal disruptive unit (such as the jHub) in search of self-transformation, aiming to ensure it can respond to the changing world around it. It is a more straight forward process if you visualise UK Strategic Command and the Ministry of Defence as private sector organisations; they would be seeking new markets, creating new and improve existing products and services, attempting to attract new customers by convincing them that we are better than our competitors; which would then in-turn generate a healthy return for shareholders and increasing efficiency.
This concept of constant creation, adaption and competition should be no different for us in Defence as a public sector organisation (with a few alterations). By thinking of products and services as being the capabilities that we provide to the frontline; customers being those that serve and work within our organisation and shareholders being the UK taxpayer to whom we seek to provide a return on investment by providing a effective fighting force that deters and defends their interests; our organisation can start to easily articulate the need to remain relevant and take concrete actions to minimise the chance of obsolescence.
To help in enabling this need to stay current with our customers (shareholders) the jHub draws upon and seeks to learn from concepts, best in class ideas and philosophies from leading industry thinkers and innovation practitioners, along with academia. A few examples of this include; the concept of 'Skin in the Game' discussed by Taleb in the book of the same name, whereby a significant improvement to results is derived when those that are seeking and enacting change also bear a proportion of the risk of the project failing. Other lessons are taken from X (formerly Google X) the R&D arm of Google, whose mission is to identify, develop and bring to fruition ideas that deliver an order of magnitude improvement to the status quo by constantly questioning why a project should exist along with an obsession about the problem and not just the solution. Finally, the renowned publications such as "The Innovators Dilemma" and "The Innovators Solution", published by the late Clayton Christensen, where he highlights how large incumbent organisations can fail catastrophically if they become complacent to the changing world around them.
Bringing all of this together, we at the jHub have converged on our three-fold offering to Defence, a concept known as our value proposition, this is that we:
Connect world class technology and talent to Defence users.
Fund and accelerate their pilots (trials of processes and technology).
Provide access to the UKSC Innovation Sub-committee.
The reinforcement of our value proposition with a streamlined but rigorous process of rapid evaluation, opportunity assessment and pilot process as highlighted on our website provides us an effective framework. It has allowed me and the other members of the jHub team and those we work with to strive to solve the problem and avoid 'solutioneering', a process often tantamount to hammering a square peg into a round hole.
A unique attribute that the jHub has over other innovation hubs is our connection that we have to senior leadership of the organisation. For us this is the UK Strategic Command's Innovation sub-committee that is chaired by the Commander of UK Strategic Command, General Sir Patrick Sanders. In the committee are some of the key decision makers within the Command and the relationship we have with the committee is a positive one with a healthy degree of challenge. This is our opportunity to bring the ideas and projects that we have been working to the senior leadership where we seek their stamp of approval and endorsement for continued exploitation and expansion of the concept across the Command, with the ultimate objective of transitioning innovative capability to core. With the sub-committee having oversight of the Command is also an opportunity for them to provide strategic direction to the jHub as to where they may be facing challenges in the future and how the jHub can help in the overcoming these. The idea of a disruptive unit being connected to the senior leadership of the organisation was adapted from " The Ambidextrous Organisation" by Charles O'Reilly and Michael Tushman.
So what?
Coming full circle, I framed our organisation as one with products and services, customers and shareholders as a means of driving value from within. I drew in the principles from Clayton Christensen a thought leader in innovation in large organisations highlighting the necessity for innovation. I'd like to now very quickly scratch the surface of a few real-world examples where companies failed to innovate and provide you with some food for thought. Take your thoughts to competitions between Kodak and Fujifilm, Blockbuster and Netflix or now non-existent former hugely successful businesses Toys R US or Woolworths. These are all case studies that have happened in living memory and it is clear that large organisations MUST adapt to the environment they operate in or face oblivion. The commonly used phrase in senior business circles and amongst specialists in innovation is "Innovate or Die". The jHub will continue to drive innovation within UK Strategic Command and across the Ministry of Defence and is very much open for business, with the headcount of the team growing over the coming year.
Even though the examples above are ones that on the surface may not seem directly applicable to Defence, change and innovation MUST be embraced, facilitated and championed at ALL levels of our organisation. All in the name of staving off the danger of becoming irrelevant within the environment that we operate in and because of the unique nature of Defence's business, doing everything within our means of preventing "Innovate or Die" reaching its literal meaning.